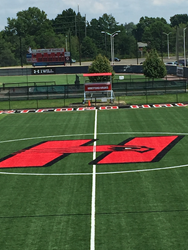 (HARTFORD, Connecticut) – University of Hartford's Al-Marzook Field had not been renovated since 2005. As a high-use athletics facility for the university, it was time for a facelift.
Al-Marzook Field has been a part of the Hartford Hawks Athletics Department since its dedication back in 1997. It's the home field for the women's soccer and women's lacrosse teams as well as the men's soccer and men's lacrosse teams. The field is also used by other athletic teams for conditioning, and intramurals sports teams on occasion.
While Al-Marzook Field already featured an artificial turf surface, the school wanted an upgrade with a superior and more durable product.
When considering a new turf surface, safety and durability were primary concerns. "The new turf will better serve our student-athletes both in terms of minimizing injuries and maximizing the student-athlete experience. With it serving four sports, that is incredibly important," said Matthew Brady, Assistant Athletics Director.
In addition to the design and functionality of the field, the school also sought an aesthetically appealing surface for national broadcasts. "With the amazing look of the field, it will be a tremendous branding piece as we begin to broadcast soccer matches and lacrosse games nationally on ESPN3," explained Brady.
For these reasons, the search for the perfect turf began years ago when the university knew renovation was on the horizon. "We did about two years of research heading into this project," said Brady. "Shaw worked with a number of different schools, and in looking at the fields they produced for others (most notably Providence) we were impressed with the quality of their work. Their experience and service came highly recommended."
When choosing a specific product by Shaw, the university wanted a surface optimized for the sports primarily played on the field, soccer and lacrosse, so they chose to install Shaw Sports Turf Legion Pro 2.25.  "We chose this product for its unique "two ends per needle" tufting process that results in improved ball roll and fiber durability, and an aesthetically superior field," said Brady.
Legion is a combination of high-performance monofilament fibers and a durable slit film fiber. The slit film fiber is a workhorse, which will handle the workload, while the monofilament provides a more resilient surface that enhances performance characteristics.
Shaw Sports Turf worked with install partner R.A.D Sports to be able to provide an exceptional experience for the university. "We are thrilled to have been able to team up with Shaw Sports Turf and deliver The University of Hartford a great playing field for their students." said Rob Delmonico, President of R.A.D. Sports. The feeling was mutual for the school as Brady describes his experience working with the teams as "excellent and incredibly cooperative."
Brady also noted that all minor issues were addressed in a timely manner and the project was completed on time, on Tuesday, July 18th.
Women's soccer will play a scrimmage on the newly renovated field on Tuesday, August 8th. Men's soccer will play an exhibition on Wednesday, August 16th. The first official regular-season game will be on Friday, August 25th when men's soccer faces Holy Cross.
"We are most grateful for the opportunity to install our Legion Pro product at Al-Marzook Field. The field will serve Hawk lacrosse and soccer athletes very well for many years to come.  It was a pleasure to work with everyone at the University of Hartford," said Territory Manager Joe Kacevich.