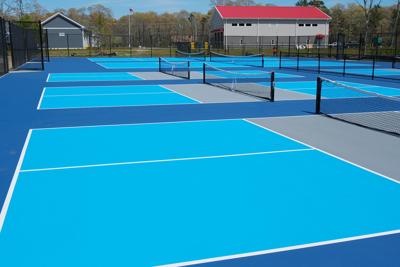 The town's new tennis and pickleball courts just off Quaker Meetinghouse Road stand ready for use once the COVID-19 restrictions are lifted.
GENE M. MARCHAND/ENTERPRISE
"The tennis and pickleball courts are finished," Recreation Director Guy Boucher said this week. "It's pretty awesome."
"The final construction and landscaping for the skate park will be done in a week or two," Mr. Boucher added. "The contractors really kicked it up this spring to finish by the end of May."
The recreation department is awaiting word from the state on when normal tennis and pickleball play can resume.
The skate park, however, will be allowed to open as long as skaters and bikers wear masks and maintain social distancing.
"We are counting on people to do the right thing," Mr. Boucher said. "We will have people there to remind them about that."
This week designers and construction crews from R.A.D. Sports, Cape and Island Tennis & Track, and StanTec engineering were on hand to finish their respective projects. The companies were scheduled to give Mr. Boucher and his assistant a walk-through of the complex Wednesday, May 20.
The recreational complex, currently known as Oak Crest Park, includes a large skate park with many ramps and other navigational features, six pickleball courts and two tennis courts.
When the landscaping is completely finished in the coming months, the area surrounding the skate park and pickleball/tennis courts will include walking trails and a parking lot.
The complex will ultimately connect to the surrounding 48-acre Boyden Farm Conservation Lands and the lakeside campus of Oakcrest Cove, the home of the recreation department.
It is located on the campus of the recently completed public safety complex—including police headquarters and fire administrative offices—at the intersection of Quaker Meetinghouse and Cotuit roads.
Within the next few years, the public safety campus will also be home to a new senior center.
Contractors had been steadily clearing brush and laying concrete throughout the fall, but took a winter break in December after snow blanketed their work areas.
The initial work was done by New Line Skateparks, of Canada, which installed specially made concrete pieces that will provide the ramps and jumping-off places for skateboarders and bikers, Mr. Boucher has said.
"Everybody is really looking forward to getting out there and enjoying the nice weather," Mr. Boucher said. "When the park is open, we are expecting everyone to toe the line. Have fun, but be sensible and be safe."